Can fiber optic cable be the solution for small bend radii?
This article originally appeared on https://blog.igus.eu/can-fibre-optic-cable-be-the-solution-for-small-bend-radii/
Industry 4.0 has now found its way into very many applications. Data is collected at a wide variety of points and must be conveyed to the control system. Used here among other things are our chainflex® cables. But when is fiber optic cable the right solution? And can fiber optic cable be used with small bend radii? We would like to take a closer look at that today.
Challenges of copper cables
In a customer application, bus cables with copper cores were used for years. The challenge was to guide data from a bus system through an application where not only a very small bend radius but at the same time a very large number of double strokes had to be planned. The bus cable used up to now quickly reached its limits here. It was therefore necessary to find out whether the chainflex fiber optic cables were better suited for the application.
How copper cables reach their limits
Copper was the first metal used by man. Its history goes back a long way, with tools and weapons already being made in Egypt as early as 4000 BC. The company igus® has been manufacturing cables with copper cores since 1989. The cables and thus also the copper wires are exposed to constant movements and high stress. Our chainflex cables can withstand these demands thanks to their unique design and the selection of materials specially adapted to the movement. We ensure this with a UL-verified service life guarantee of up to 36 months.
But then where are the disadvantages of copper cables? In most cases, you might suspect that the biggest problem comes from the copper wires in the core breaking due to the high bending stress. However, this is not the only problem, nor the biggest. In the case of bus cables, electrical values defined by the respective bus system also influence the functionality of the cable. The easiest way to think of this is in terms of capacitance. The capacitance is an electrical value which plays a very important role in a bus cable. This value can change, among other things, due to a material constant, but also due to distances, e.g., the distance between two pairs of cores. In the case of very high bending stress, as we found in customer's applications, the distances between the cores can therefore change and the capacitance value of the cable can change as a result. This has the consequence that the defined bus signal can no longer be transmitted. Therefore, we have been looking for an alternative to offer our customer.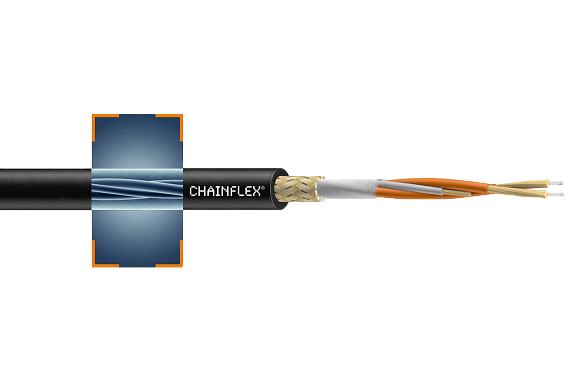 Advantages of fiber optic cables
In most cases, fiber optic cables are used to transmit data over a particularly long distance. Just think about your internet connection. Here you achieve the best result with a fiber optic connection, since the losses over the long distance are very low. In this application, we no longer speak of cores and stranded wires, but of fibers. These fibers are made of either plastic or glass and transmit data by means of a light signal.
In addition to the excellent transmission properties, a fiber optic cable also has great specifications for permanent bending stresses, e.g. in an e-chain® cable carrier. By using fiber optic cables, a reduction of the min. bend radius by up to 40% is achieved. In addition, data can be transmitted faster than with conventional copper cables and is not affected by EMC interference. In comparison to a bus cable with copper wires, the fiber optic cable has another advantage. Here the bus signal is not dependent on electrical specifications of the cable. In very simple terms, there are only two fibers here. One enables the signal to be sent as a light pulse from the transmitter to the receiver. The second fiber allows the light signal to go back from the receiver to the transmitter. The distance between these fibers has no influence on the result.
We have proven this together with our customer through tests with our fiber optic cable CFLG.LB. The result was astounding: the cable lasts several million cycles in this particular application and thus has a significantly longer service life than a comparative cable with copper cores.
How igus improves products through individual customer tests
At igus, we work with you to conduct individual customer tests tailored to your application in our own chainflex test laboratory. On more than 3,500m² of floor area, there are a number of test setups for our energy chains where tests are run every day. Whether linear or torsion, short or long travel, small or large bend radius: we at igus also perform tests for you that go beyond any standards and find the right solution for your application.
Cables are not the same, and one application is not the same as another. The interaction of all components is always important. Therefore, it is essential to take into account all conditions when choosing the right cable. We are specialists in this field and would like to share our expertise you.
Test with us!
Do you also have applications where the previous copper cables have reached their limits or data can no longer be transmitted reliably? Then make an appointment now with an igus expert and we will check whether a chainflex fiber optic cable is a viable alternative for your application.