New Electric Unit Takes ATV Market for a Ride
Note: This is a republication of Tom Renner's article originally published by New Equipment Digest.
---
While the global pandemic wreaked havoc on many industries, the all-terrain vehicle market was not among them. In fact, quite the opposite occurred. The market is expected to reach $11.95 billion by 2027, according to a report from Allied Market Research.
A new vehicle designed by a Canadian company could play an important role in the industry's growth. LyteHorse Labs of Saskatchewan has designed the stand-up electric all-terrain vehicle, which has a maximum range of 80 miles and the ability to reach speeds of 40 mph. The utilitarian vehicle can be used in law enforcement, military applications, fire and rescue, warehouses, border security, airport, and recreational applications.
"The form factor of LyteHorse vastly reimagines the power and utility of the ridden horse, with future-proof materials, technology, and performance that will change the way electric mobility can be applied,'' said Allen Bonk, CEO of LyteHorse Labs.
Initially designed as a potential alternative to golf carts, the original designer at LyteHorse took the concept further and built a unit that can be used in multiple work and recreation environments.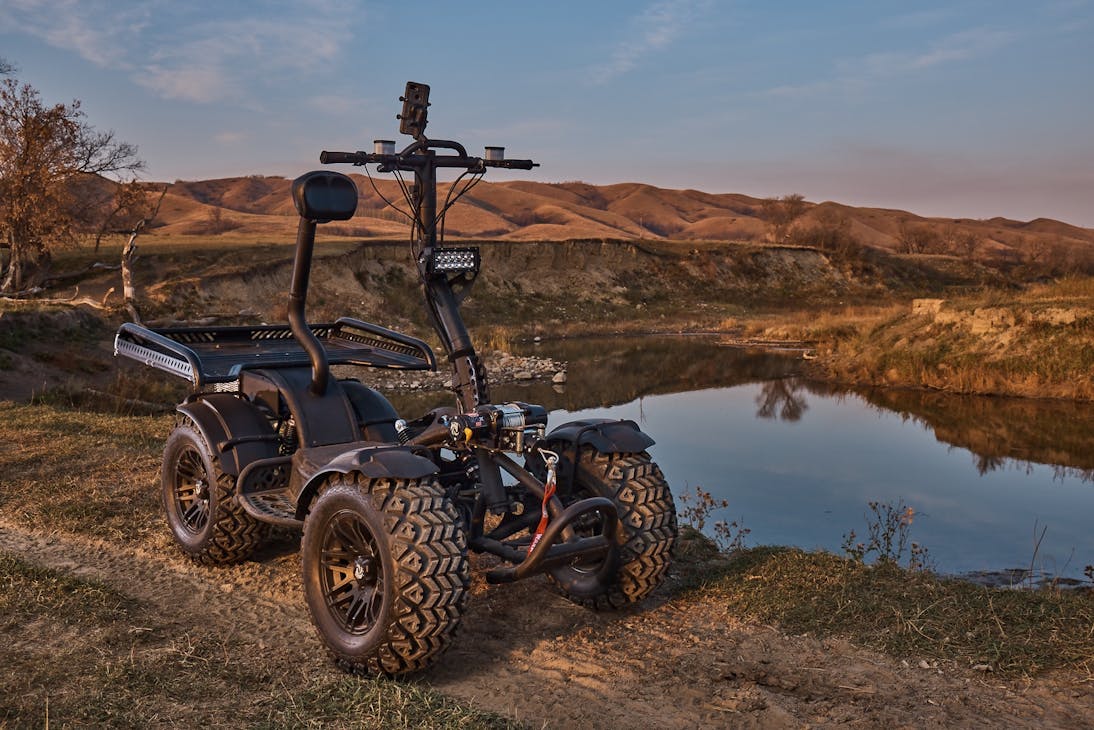 Unique Combination of Parts
Brad Bonk, Allen's brother and co-founder of LyteHorse, used an electric motor from a washing machine, battery, and controller attached to a chassis he had built to create the original prototype for a vertical riding machine. The brothers tested it on the golf course.
"We took it out on a golf course and it was very cool,'' Allen said. "But the golf niche is a difficult market. The golf market stays pretty much flat. You have as many people leaving the game as you do starting every year, so it never really grows much. The idea to do more with it started to take over my brain."
The brothers considered other applications and quickly discovered their vehicle could do more. "It was way more fun than golf carts,'' Allen said. "But it soon became obvious that there were significant utility applications for it and there was a definite gap in the marketplace for an easy access, stand-up electric ATV."
The turning point in their design came about when they discovered the ATV could tow a two-and-a-half-ton SUV. "After taking it to the golf course, Brad and I decided to hook up the prototype to my SUV to see if it could pull the car,'' Allen said. "And yes, that crazy little scooter ended up dragging a 2.5 ton SUV across the parking lot. I was stunned!"
Going back to the drawing board, the brothers thought about other applications for the scooter. "It soon because obvious that there were significant utility applications for it and there was a definite gap in the marketplace for an easy access, stand-up EV,'' Allen said.
Design Challenges
Brad Bonk has more than 40 years of experience building and repairing motorcycles, cars, and hot rods. When the brothers realized the electric machine they were designing had such a wide range of applications, they developed different iterations of the LyteHorse.
"There was a lot of trial and error,'' Allen said. "The steering for a standup vehicle is extremely complex. Making the suspension work in concert with the steering geometry proved to be particularly challenging."
The engineering team designed different models for the various markets. The model called the "LH2" is a two-wheel-drive version that can be used for recreation, campus security or moving about a resort community. The "LH4" is a four-wheel-drive unit that provides maximum stability and traction in the most treacherous terrain. It can be used in more rugged settings, such as for hunting or off-roading.
Each unit weighs about seven hundred pounds and operates quietly. Unlike traditional all-terrain vehicles, there is also no scheduled maintenance required. Four independent electric motors power the vehicle, providing up to 24,000 watts of peak power.
The company has even designed and is producing its own battery pack called a "LytePack," a 2.4-kilowatt hour pack that will provide 20 to 25 miles per pack. Each LyteHorse can hold up to four Lytepacks.
One of the critical differences between the LyteHorse and other ATVs is the machine's stability. The vehicle is easy to use (almost no learning curve), and the wheels are offset which helps make it far more stable than traditional scooters and other electric off-road type vehicles, where riders can easily lose their balance and risk injury.
"It's very different from a traditional ATV," Allen said. "It has no drivetrain, no gas or oil, nothing to lubricate or change out, and zero sound emissions. Also, it is safer as the LyteHorse tipping point is 67 degrees compared to a typical quad, which is about 37 degrees."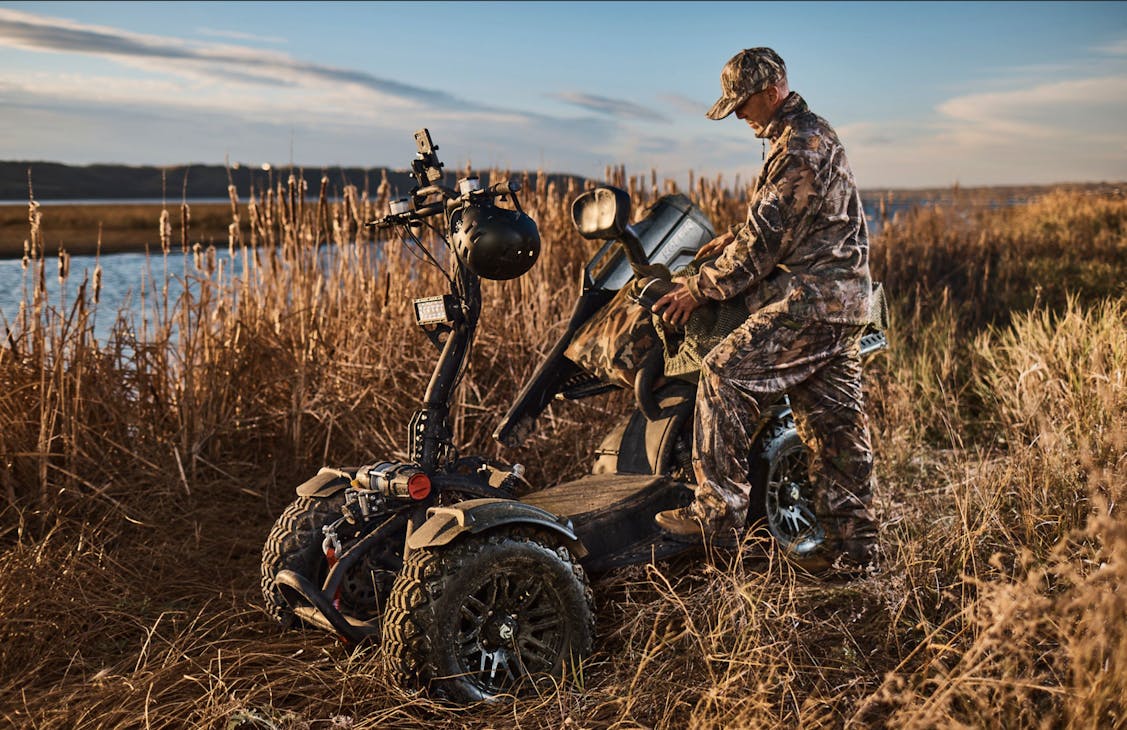 Durable Components
Each LyteHorse includes multiple parts from igus, the Germany-based manufacturer of motion plastics. "We used igus anywhere bearings would normally have been used,'' Allen said. "Suspension arms, steering post, swing arms, and suspension posts. The igus bushings have a strong track record of reliability and performance."
The self-lubricating igus bushings are an important feature of the LyteHorse, as they can stand up in all types of challenging environmental conditions.
Engineers tested units with steel and nylon bushings but ultimately selected igus bushings. The igus bushings, made with iglide J material, provide low wear against different shaft materials and low moisture absorption. They also provide good chemical resistance and are frequently used in automation, printing, aerospace engineering, and cleanroom applications.
"We couldn't achieve our requirements with conventional bearings because they are susceptible to dirt, saltwater, and extreme temperature failures,'' Allen said. "In the end, the flanged bushings we used made of iglide J convinced us that they were the best choice in terms of performance, durability, reliability, and cost."
igus components are frequently used in automotive applications. Besides their durability—iglide bearings last up to eight times longer than metal components—they are also self-lubricating, lighter, quieter, and dampen vibration. All of those factors are important considerations for rough-hewn ATV vehicles.
Bonk added other bearings proved to be too bulky and were prone to failure. "The durability and self-lubricating properties were critical, but they also provided ease of integration,'' Bonk said.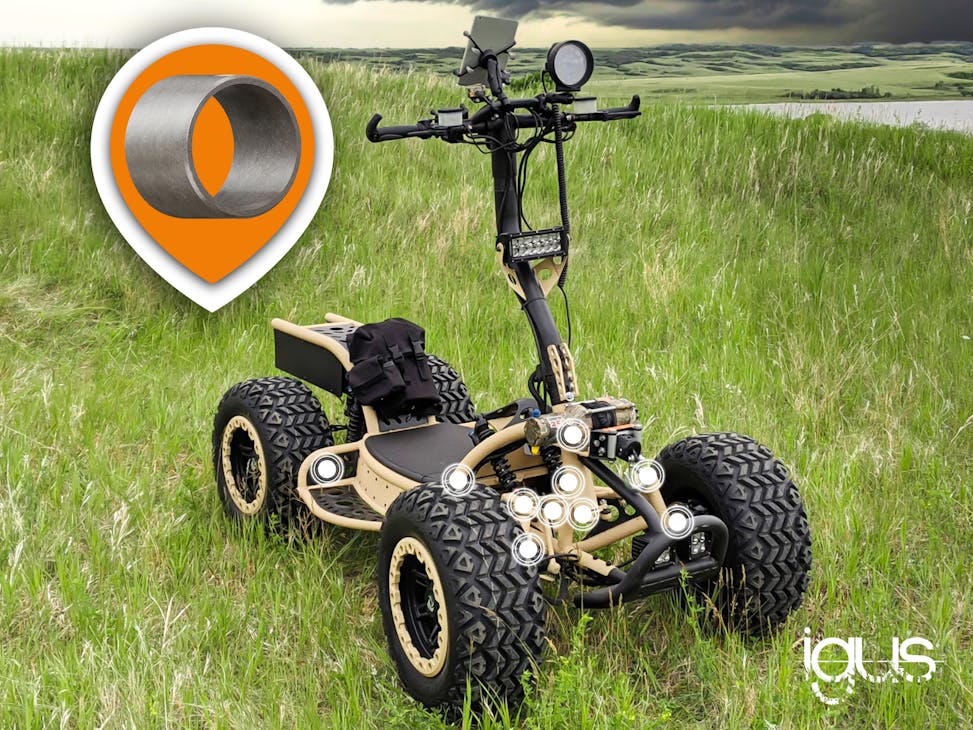 Hot Market
The LyteHorse is another example of the expanding electric mobility market. According to a report from McKinsey, 2020 was a banner year for electric-vehicle sales. In the fourth quarter of 2020, sales of EVs grew 60% and 80% in China. EV sales in the United States increased nearly 200% between the second quarter of 2020 and the second quarter of 2021.
The ATV market is also expanding. Canada, in particular, saw a surge in ATV sales during 2020. As people wrestled with the virus, they also sought opportunities to find outdoor adventures. Sales of ATVs rose 30% in 2020 in Canada, with increases in every Canadian province.
The northern neighbor of the United States is one of the world's richest in terms of ATV trails. The Great Trail extends nearly 15,000 miles from east to west. Saskatchewan is one of the nation's favorite ATV destinations. Waskesiu Lake in Prince Albert National Park, spanning 2,407 square miles, is rife with trails. Riders share space with abundant wildlife, everything from elk, moose, and wolves to one of the last remaining herds of free-range plains bison in the world.
The combination of increased interest in ATVs and outdoor recreation in the wake of the virus provides the perfect conditions for LyteHorse. In addition, in a world increasingly concerned with climate change, the electric operation will reduce emissions and provide a safer source of power for the environment. The concept and the business appear to be perfectly positioned at the right place at the right time.
LyteHorse Labs stands poised to tap into the emerging EV market, in large part due to the range of applications for which its product can be used. More than 20 mobility-related industries can be made easier and more efficient with LyteHorse, Allen said. In addition, units can also be customized with various racks, lighting, winches, and other features, depending upon the application.
While it took several years and many iterations to develop the final product, Allen Bonk believes the LyteHorse will be a game-changing ride for the electric mobility market.
"It has definitely exceeded all expectations,'' Bonk said. "The machine is a beast and incredibly rugged. The applications are endless."
---
For more information, contact an iglide® bearings expert today. You can also contact us by phone at 800-521-2747.