Decisions, Decisions: 3D Printer or 3D Printing Service?
More and more industrial companies are recognizing the benefits of 3D printing or additive manufacturing (the term 3D printing actually only refers to one of the many additive processes, but is colloquially used as a synonym for additive manufacturing). The range of machines, materials and processes offered is huge—but where is the best place to start? And how do you know if it's better to invest in a 3D printer or 3D printing service?
To help answer those questions, we'll cover who benefits from industrial 3D printing and how, what challenges 3D printing could pose for manufacturing companies, and what you should consider before deciding between a 3D printer or printing service. Let's get started.
Who Could Benefit From Industrial 3D Printing?
Maintenance benefits from the fast and independent creation of spare parts.
Design and development accelerate product development cycles with rapid prototyping— prototypes can be tested and adapted much faster and are also significantly cheaper to manufacture than milled parts, for example.
The production team can produce smaller series of components much cheaper and faster and reduce the waste of material.
What Challenges Does 3D Printing Pose for Manufacturing Companies?
The benefits are obvious, but there are still numerous companies that have not yet incorporated 3D printing into their production processes or have not incorporated it efficiently. The most common reason for this is the lack of experts who can operate 3D printers properly. Depending on the additive process, material, and complexity of the parts, 3D printing engineers not only have to be able to operate the machines, but also have to deal with CAD construction, material properties, mechanics and post-processing.
Furthermore, the acquisition of an industrial 3D printer is very expensive and may require special rooms, the corresponding infrastructure and software licenses—an investment that must also be profitable.
Although additive manufacturing technologies not only save time and costs, they also offer unprecedented potential for innovation—new materials are created, well-known materials can be shaped and combined with almost no geometric restrictions. Many engineers lack experience with it, and therefore, also lack confidence in reliability and cost-effectiveness of new technologies and materials.
One way to find out whether and which solutions from additive manufacturing are worthwhile for your own company are 3D printing services. You may be thinking of service providers who print objects like colorful figurines, mobile phone cases and key rings, but there's more to it than that now. Some 3D printing service providers have specially geared themselves to the needs of industries by creating components out of a variety of materials, such as plastics, metal or even wood. Multiple materials can even be combined into a single component. Ordering and delivery are usually quick and easy—most services offer the option of uploading 3D models online and ordering them directly. Delivery usually takes place within a few days.
3D Printer or 3D Printing Service?
Not every company that benefits from the advantages of 3D printing also benefits from purchasing a 3D printer. Which criteria should you consider for this?
Costs:
With a 3D printing service, you save the costs of purchasing your own industrial 3D printer, the storage of materials, the personnel costs for in-house experts and the time required for production. Another advantage of working with external 3D printing services is the clear cost structure. The costs of 3D printing services can be easily and precisely determined in advance, which makes budget planning easier. The accounting for this is also done quickly and easily, which in turn saves time and costs that can be invested in other projects.
However, if a decisive part of the production is to be carried out using 3D printing, whereby the need can be covered by a specific process, then in the long term it is worthwhile to purchase your own printer.
Quality and Speed:
3D printing service providers have large capacities in terms of machines and specialized staff, work quickly, and deliver very good results thanks to extensive experience. The production of prototypes and small series takes place very quickly and easily, especially in the case of online orders.
Of course, no delivery service can deliver products as quickly as your own printer on site. If you need to have parts on hand on a regular basis, your own printer is a good choice. Of course, there has to be an in-house expert who is familiar with the processing of the materials and the handling of the machines; otherwise, parts can fail and the production process is considerably extended.
Personnel and Expertise:
Many innovative engineers are enthusiastic about the possibilities of 3D printing and also deal with it in their free time. Nevertheless, in many places there is a lack of professionally trained personnel and, above all, experience in additive manufacturing. 3D printing experts are hard to find, but service providers specializing in 3D printing focus precisely on these specialists. Thanks to the large number of different customer orders, the 3D printing service providers have a greater wealth of experience. Owned machines also require their own specialist staff who have to be specifically trained.
If such an expert is available, however, they can deal much more intensively with the optimization of processes and products and is in direct contact with the rest of the team.
Flexibility:
3D printing services are equipped with numerous different machines and can therefore cover a wide range of printing processes and materials. Based on the required application, you can advise on the selection of the process and material as well as the design and also offer different solutions as prototypes until the optimal result has been found. This is not possible for companies that only have one or two machines of their own for additive manufacturing. It is much faster and easier to make changes to the printed models, to test them on site and to discuss them in a team—ideal for fast-moving iterative processes.
Order Volume: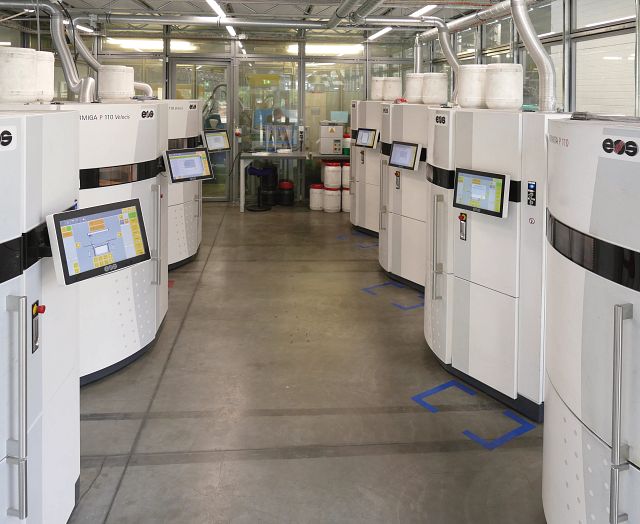 If individual components or spare parts only have to be produced occasionally or even once using additive manufacturing, the use of a 3D printing service is obvious. If the required part is to be manufactured using the SLS process, for example, additional costs may be incurred when producing small quantities with your own machine. A professional printing service can produce large loads of parts from different customers in a single pass, which significantly reduces the price of individual parts. If large quantities of 3D printed parts are required within a short period of time, an external service provider may also be the better contact, as more machines are very likely available to them.
Post Processing:
If printed parts are to be installed in the company's own machines immediately or if only the mechanical properties are important, but not the look and feel, post-processing is not necessary in many cases. But if the surface texture has to have certain properties such as special smoothness or specific colors, 3D printed parts go into post-processing. This also applies to any subsequent mechanical adjustments. Depending on what type of post-processing is required, the manual effort can be very high and require your own equipment. In individual cases and irregular requirements, a 3D printing service is usually worthwhile.
Combine the Advantages of 3D Printers and 3D Printing Services
Before purchasing your own 3D printer, you should have some 3D models from external providers printed using different processes in order to be able to assess the suitability of the results with regard to your own application.
If the need for your own printer is recognized and one is purchased, it does not mean that you have to limit yourself to one manufacturing process and one material. The diverse possibilities of 3D printing services can still be used. Depending on the order, it can be even more economical to use an external service provider despite having your own machine. The costs for an SLS machine that is not fully used are often higher than an urgently needed individual part ordered externally.
3D Printing at igus® - This Is How We Can Help
Our in-house 3D printing service produces wear-resistant components from the tried-and-tested iglide® high-performance plastics. In contrast to conventional 3D printing plastics, our materials are particularly suitable for industrial applications in motion because they are low-friction, self-lubricating and abrasion-resistant. Since we offer both filaments and SLS powder in our online shop, they can also be processed with our own printers, provided they are suitable for processing (see processing instructions for the individual products).
Watch this video to learn how to use our 3D printing service or simply upload your STEP file here to get started. You can also reach out to a 3D printing Product Manager with any questions.